The Level 10 Body Transformation Challenge encourages participants to reach their ultimate goal and be the best they can be whether it be weight loss, body fat loss or even gaining muscle. What ever the objective Herbalife has the best nutrition solution and exercise programs.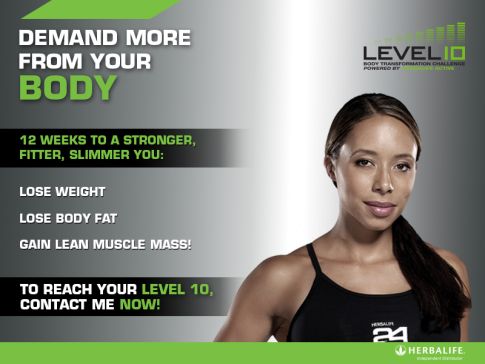 Prizes are available at a local level if  a group competition is organised. Individuals can also enter Herbalife's regional and national Level 10 Challenge. Regional winners recieve  prizes of £500 per winner in male and female categories and there are runner up prizes of £250. These regional winners are then entered into the National customers final day when Herbalife provide prizes of £4,000 for the winner for male and female categories, with 2nd (£2500) and 3rd (£1500) prizes as well. Then there is an overall national winner will be selected from the male and female 1st place winners and will receive additional prizes as follows: a holiday voucher to the value of £5,000 (including VAT) and spending money of £2,000 in cash.
12 Weeks to a Stronger, Fitter, Slimmer You
Personalised Body Analysis
Customised Meal Programme and Meal Plan
Regular consultations and coach support
Education about nutrition and exercise
Weekly meetings with new friends on the challenge
Compete for 000s in prizes and giveaways
Please contact us for more details on the Level 10  Challenge.