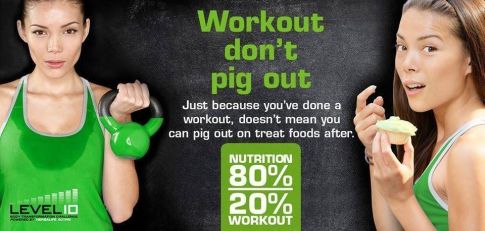 Are you struggling to lose or gain weight?
Do you wake up tired, lack energy, feel bloated and feel sleepy after lunch?
Do you find yourself snacking on crisps, biscuits and chocolate between meals?
Do you need help achieving your health and fitness goals?
Do you lose motivation after a few weeks of exercise?
What are the options?
Gym/ Fitness/ Dance Class – "That's your 60 mins session over with, see you next week " Is your gym and health club tracking your progress every week, your metabolic age, body fat%, muscle mass? If not, why not? Are they results orientated? Or do you have to employ a PT to get that monitoring which only takes a few mins once a week? The fitness industry always trying to re-invent itself. From bodybuilding in 70s and 80s. To fitness boom 1980 to 2010 through aerobics, step, spinning, zumba, HIIT.. Will they move into the Wellness Age?!
Slimming Club – "Now if you save your calories Monday to Friday, you can have a blow-out at the weekend"  Tracking weight only? What about tracking what's muscle and what's fat?
Nutritionist – "From tomorrow i want you to switch immediately to 3 healthy balanced meals a day, here's some meal plans. Come and see me next week, ill give you exacty the same advice for the same fee" If it were that easy…
Restricted diet – A starved metabolism goes into a sluggish idle, and saves every calorie you consume in a protective mechanism against famine. A low calorie diet, such as  missing breakfast and soup for lunch may help you create a deficit of calories but as its not balanced nutrition the consequence is you may lose lean muscle, which means you wish you hadn't started!
24Fit is a unique concept because generally gyms focus purely on fitness; nutrition therapists focus purely on diets, but we all know that the two go hand-in-hand and both things must be addressed simultaneously to get you where you want to be. And you need to stay motivated to make changes to your lifestyle. So for most people, joining a gym, going for a run, going to Weight Watchers, or cutting down on sugar/beer/puddings alone, is usually never enough! What you need is the complete package, a wellness solution:
Wellness Coaching with 24 Fit is an integrated and structured approach which covers:
Structured, balanced nutrition programme personalised to the individual, for example recommended daily protein intake and calorie intake related to your resting and active metabolic rates. " Get Lean and Fit" or " Get Ripped", or " Performance nutrition" from Herbalife.
An exercise programme (strength training, cardio, flexibility) whether at the gym, class, fit camp or at home with the 24 Fit DVDs. Ideally strength training 3 times a week for 30 mins plus favourite cardio exercise.
Regular Metabolic Analysis/Body Composition Testing – Track your progress to stay motivated; don't rely on the bathroom scales. Metabolic age replaces weight and BMI as the indicator to how "healthy" you are..
Set yourself a goal, with 4 different challenges with prizes to help you stay motivated. That's a Level 10 Body Transformation Challenge, Weight Loss Challenge, 24 Fit Challenge and 5 weeks to 5k.
Education, wellness profile, advice and support.
Our philosophy is that for optimum results you need to have 80% nutrition, 20% exercise  and 100% attitude.
Questions
1. Whats a healthy breakfast? Nothing, carbohydrate based, one containing protein , plant v animal protein?
2. How much protein you should consume per day, based on your height and weight and activity level?
3. Is your calorie intake linked to your resting metabolic rate?
4. How are you tracking your progress? Weight, measurements, body fat%, metabolic age?
Metabolic Analysis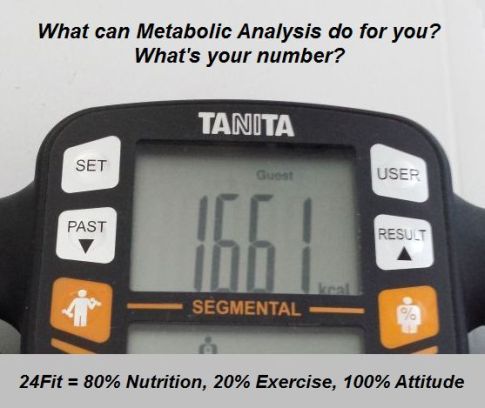 Gone are the days of letting that number on the bathroom scale have the last word on your health and fitness.
If you want your workouts to be 100% productive, and your nutrition tailored to your personal physiology, then all your health and fitness efforts should begin with metabolic analysis. Metabolic testing unlocks the secrets held in the individual physiology of each of our clients and is crucial to our success in helping people of all ages and abilities reach peak fitness and optimum body weight. More details on metabolic analysis
What makes this fitness programme different?
Proven results that focus on creating healthy lifestyle changes through training, nutrition and coaching instead of the "quick fix". This is not simply another exercise group or boot camp where you work out and then are forgotten until the next hour session starts. Our programme is set up to give you all of the vehicles you need to get in the best shape of your life and achieve your health results and goals. Through our proven workouts, nutrition, education, and positive motivation every step of the way, success is inevitable
Nutrition is the key to any successful weight loss or healthy lifestyle change. Most professionals will tell you that its 80% of your success. Which is why we offer nutritional education, complete nutrition meal plans & supplementation. Personalising a nutritional programme for you it's important to incorporate factors such as lifestyle, age, gender or life stage, actual body weight, body composition, activity levels and personal goals. e.g. taller people require more protein and a highly active sportsman will need more than the guideline daily amounts of nutrients.
An exercise programme which includes strength training and cardio workouts. When people think 'exercise', they usually think aerobic exercise, like biking, swimming or jogging. While the cardio will get your heart rate up and burn calories, adding strength training to your workout routine builds muscle and helps you burn more calories during and after your workout. In fact, researchers found that women who did strength training increased their resting metabolic rate (the calories your body needs to get through the day) for as long as 16 hours post-exercise. The calories you burn during workouts are less important than how you use your exercise time to reprogram your bodys physiology that matters.
Regular body composition testing, so you can check your progress with body fat%, metabolic age muscle mass, hydration etc etc with the emphasis on measurable results. Ask your local gym what results do they get for their clients?! We track your progress using 10+ stats.
Motivation is an important element of success. Seeing results in your metabolic age will encourage you to continue with your programme. Also we have a number of challenges which you can enter which will help you stay focussed, with prizes!
Your 24Fit Wellness Coach takes a personal interest in you and your goals, who are with you the entire way to guide you, motivate you, and celebrate in your success. That is ongoing education and coaching. W are there for you whenever you need us, not whenever you fit in to a schedule. We share invaluable information about exercise and nutrition advice to help you achieve your goals and get in the best shape of your life.  For example, a Herbalife protein shake after training accelerates lean muscle growth, which in turn revs your metabolism and burns more fat, and speeds up recovery. lean muscle gain. Exercise and nutrition working together.
Our 24 Fit concept is the vehicle to drive you to achieving the best shape of your life – and nourish and sculpt you from the inside out.  Fit Club is a chance to take your health to a new level, regardless of whether you are looking for weight loss, weight gain, athletic performance, energy, toning or any combination of those.
Though our proven workouts, nutrition education, and positive motivation every step of the way, success is yours! We offer programs that are suitable for all ability levels. By implementing all of the above components, you can maximise your results and your health.